Virtual Care at Home 24/7
Providing Exceptional Virtual Care and Monitoring 24/7 at Home for seniors and families in in San Francisco, Daly City, Pleasant Hill, Santa Clara, Livermore, & Citrus Heights, San Jose and across the Peninsula.
Take advantage of our home care services today, which are all designed to help our clients achieve overall wellness. To execute our mission, we offer various non-medical home care services that are made specifically to meet your health and personal needs. Our team of professional caregivers is ready to assist you with your daily routine. The services we offer are all aimed towards improving your overall well-being.
Our in-home care services aim to offer home care to every individual in the comfort of their own home. Our professional caregivers are responsible for giving around-the-clock care and supervision to ensure that your needs are immediately met. The caregiver will also perform regular monitoring to see if there are changes or improvements in your health.
What is Virtual Caregiving at Home?
Virtual Caregiving is a unique way to provide monitored care for your loved-one. Virtual Caregiving is an excellent solution to enhance the care that is provided by your HomeCare Professionals Caregiver, filling in the gaps when the caregiver is not on shift.
There's an urgent need for a service that helps seniors live in their homes longer and more safely. Every home is different and every lifestyle is different, and solutions from other platforms simply aren't smart enough to address these real-world challenges.
A new solution is needed that incorporates modern technologies to serve as a comprehensive safety net. We fix this with a remote care service that is the most intuitive in the world. It learns constantly to predict wellness-related concerns of people in the home, and it's remarkably simple to setup and operate.
Healthcare, senior communities, and home care providers can deliver our telehomecare services quickly, affordably, and with noteworthy differentiation to their customers for recurring revenues. With the insights provided by our solutions, care workers can focus their energy on the patients, clients, or residents who need the most attention – right now.
The realities of COVID-19 have accelerated an unmistakable trend – the desire to age at home. Living at home safely and independently is a basic desire for everyone.
Our telehomecare system encourages confidence and peace of mind for everyone – our elder loved ones, their families, caregivers, caregiving agencies, and communities. It helps address concerns of senior falls, wandering and loneliness in a new collaborative way.
It also supports families of seniors whose wellbeing can be monitored remotely around the clock, enabling unique 'trusted circle' collaboration.
The Benefits of Virtual Care at Home:
Aging and healing at home
Detects falls and inactivity inside the home
Keeping seniors at home longer (as opposed to a facility)
Low Cost, Highly Effective
Compliments In-Home Care Services
Private, Non-Intrusive, Peace-of-Mind
With HomeCare Professionals Virtual Caregiving Program, your loved-one is provided:
A Remote Connect Coordinator (RCC), available 24/7. Your RCC is a specifically trained person to assist with your in-home assistance needs.
Your RCC will proactively check-in in with you on a predetermined basis – Aging Assistant will check-in from as little as 1 X per week to as many as 7 X per week
Your RCC will communicate issues to a Friend or Family Member, based on pre-defined protocols. Hence, catching issues early and preventing re-hospitalization or other serious issues
Your RCC will contact you as desired to provide companionship and to combat loneliness
At HomeCare Professionals we put the needs of our clients and their families first. But don't just take our word for it read our testimonials.
HomeCare Professionals strive to be as flexible as possible, enabling us to better meet our client's needs and schedules across all our services.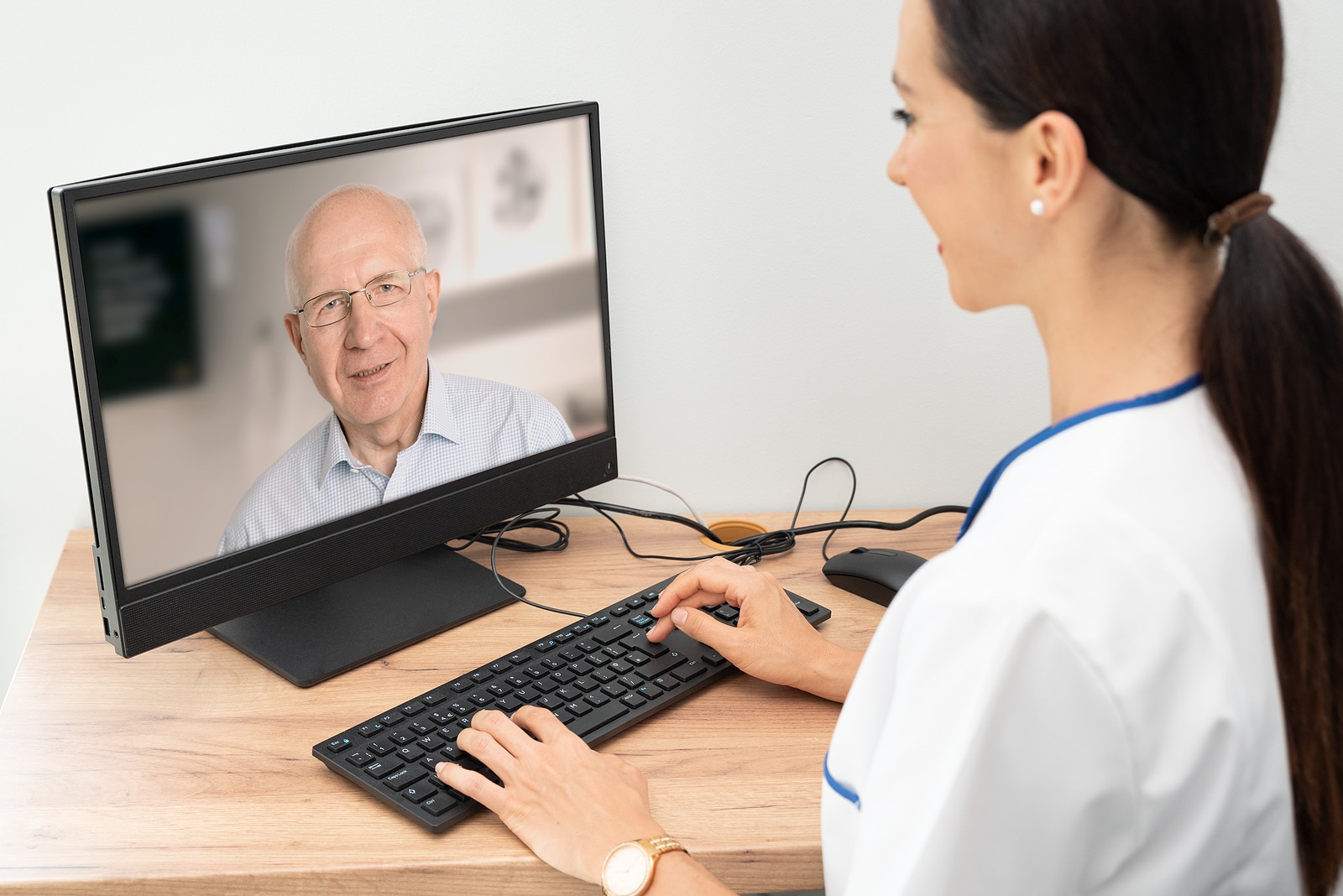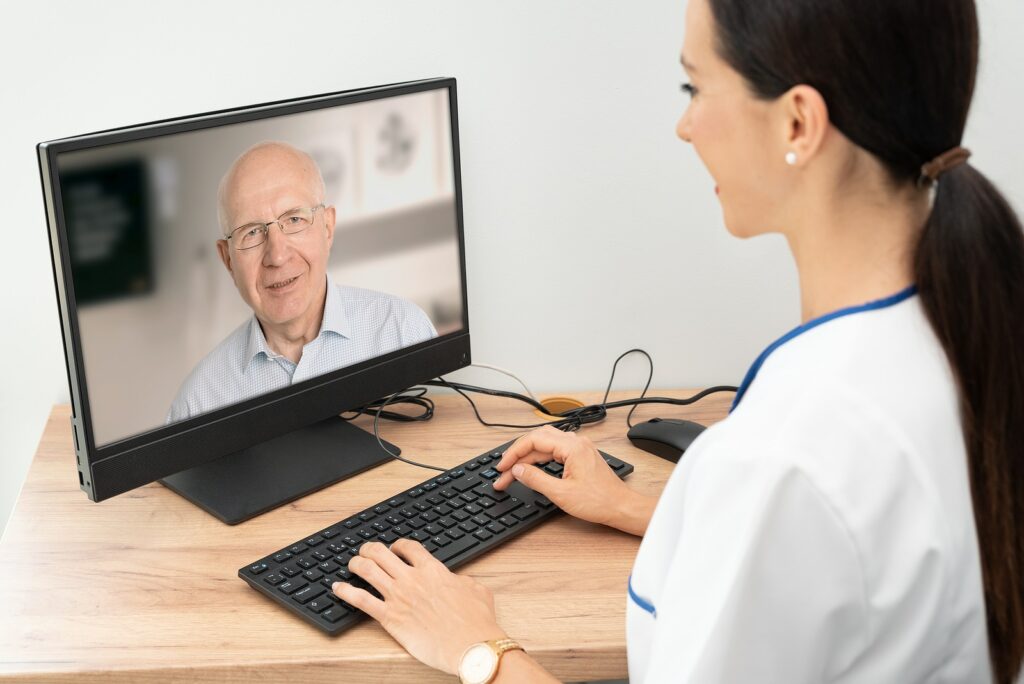 How Does Virtual Caregiving Work?
Sign-up loved ones based on their needs and technological ability using a smartphone, tablet, computer or landline
HomeCare Professionals develops a care plan and trains your loved ones to use our telehealth solution
Daily Health Surveys monitor your health
Live Remote Care Coordinators (RCCs) evaluate your needs and provide support
RCCs escalate issues to a Family Member or Nurse, based on pre-defined protocols
Nurse or Physicians may assess and treat patient using video triage*
RCC can coordinate medication, food, and supplies
HomeCare Professionals strive to be as flexible as possible, enabling us to better meet our client's needs and schedules across all our services.
HomeCare Professionals Tele-Home Care Family Pack
Seniors can live independent longer, safe from falls and other common concerns, with HomeCare Professionals Tele-Home Care Family Pack.
There's an emergency button to request help at anytime, and also activity sensors that will detect hazards and call for help when it's need.
Best of all, caregivers can check in anytime – without disturbing the senior or invading their privacy.
How Does HomeCare Professionals Tele-Home Care Family Pack Work?
HomeCare Professionals is a Certified Technologist that Installs and Trains for You!
Install The Family Pack.
A personal assist button, front and back door entry sensors, and motion sensors for the Kitchen, Hallway, and Living Room are easy to install. It includes everything you need to address concerns of falls, wellness, and loneliness in a new collaborative way. Installation is fast and simple.
The activities of daily living are learned.
The normal lifestyle patterns of the senior are privately learned, without a wearable, and insights can be accessed by members of your Trusted Circle of friends and family.
Smart Home Center
This makes your home intelligent. Simply plug it in to power and plug in a wired internet connection. The free app will walk you through the whole process.
Personal Assist Button
Push it at any time to alert the people in your Trusted Circle and let them know that assistance is needed. Or change its behavior to record access to medication.
Front Door and Back Door Entry Sensors
They attach to a home's high-traffic doors in just minutes so you can know when someone comes and goes. Install extras on medicine cabinets, refrigerators, and microwaves.
Kitchen, Hallway, and Living Room Motion Sensors
They alert for potential falls, sleep problems, and more. We recommend one motion sensor every 500 square feet of living space, so the base pack covers about 1,500 square feet.
Professional Monitoring. 24/7.
When lifestyle patterns change unexpectedly, automatically alert your Trusted Circle and the Emergency Call Center to get help fast.
The HomeCare Professionals Trusted Circle
This intelligent system uses easy to install wireless sensors around the home (no cameras) to learn daily activity patterns and alerts family, professional caregivers, and emergency services (if necessary) of falls and potential hazards even if the emergency button is out of reach.
The Trusted Circle is an exclusive group of contacts who care for the wellbeing of a friend or loved one using  HomeCare Professionals Family in their home.
Trusted Circle contacts receive Group SMS Notifications and In-App Push Notifications to actively participate and immediately respond to falls and other potential hazards or simply stay in the know. Contacts can also use the HomeCare Professionals app to get real-time wellness status updates, daily reports, and more.
Join the Trusted Circle
You will receive a text message invitation from HomeCare Professionals.
Click on the provided link, download the HomeCare Professionals app, and follow the instructions to setup your HomeCare Professionals account.
Add the HomeCare Professionals Care Family Emergency Call Center phone number to your contact list for safekeeping. Unknown numbers are often considered SPAM so it's best to be ready to help when called upon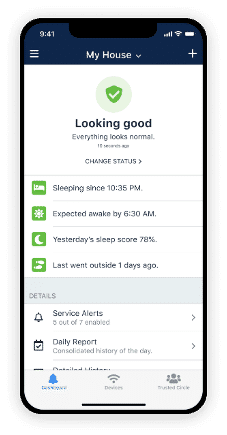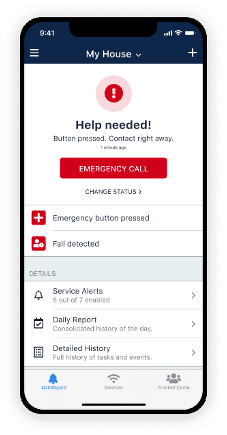 This intelligent system uses easy to install wireless sensors around the home (no cameras) to learn daily activity patterns and alerts family, professional caregivers, and emergency services (if necessary) of falls and potential hazards even if the emergency button is out of reach.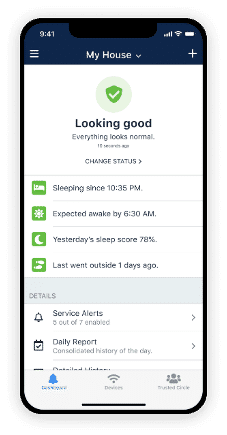 Know that everything is okay. Get real-time wellness status updates, daily reports, and more.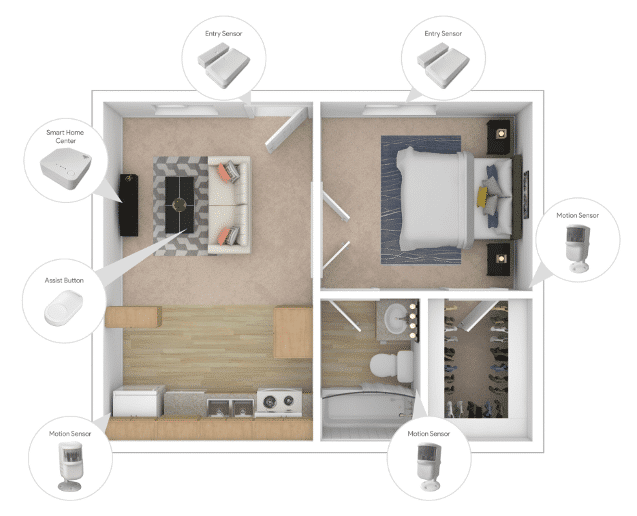 Monitors the home 24/7 including fall detection, failure to return, sleep monitoring, and more.
When problems arise, HomeCare Professionals communicates outward in a tiered escalation methodology as urgency increases. This approach gives family and professional caregivers an opportunity to get involved and deescalate issues before dispatching Emergency Services.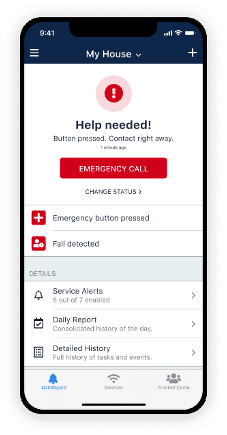 Get alerted and know what's happening.
Get involved right away to help resolve the issue.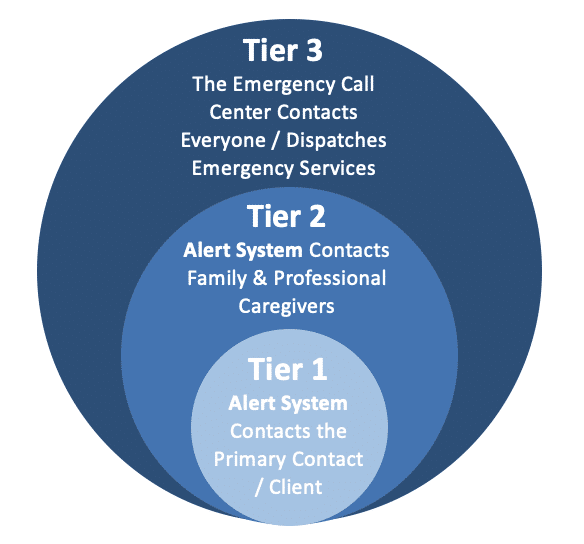 Group SMS Notifications, In-App Push Notifications,
24/7 Call Center, & Emergency Services
Features for Every Lifestyle
Captures and describes lifestyle patterns into the app
Check-in remotely, review the Daily Report, and know where people were last seen.
Detects when people are home, away, or sleeping.
Record access to medication with a variety of medication activity sensors.
Measures sleep quality with an activity sensor in the bedroom.
Track trips to the bathroom, showers, and bathroom falls with a bathroom motion sensor.
Identifies meal activities with access to the microwave, coffee, and fridge.
Alerts when problems are detected
Fall detection without a button: alerts on unexpected inactivity in the home.
Medical alert button to call for emergency help or simply request assistance.
Alert if occupants do not get up in the morning.
Notify if occupants did not make it to the bedroom at night.
Detect if the stove is left on, unattended.
Delivers reminders if people forgot to take medication.
Mold and mildew detection with added humidity sensors.
Integrates fall and SOS alerts from Apple Watch and Samsung Galaxy Watch.
Uses text messages for alerts, so family participants don't have to download an app.
Proven to help fight senior depression, loneliness, and isolation
Coordinates and assigns a new family member to reach out each day, with suggestions on what to talk about from the last person.
Smart Speaker support to control the home, play music, and connect family.
Adds needed support for Dementia and Alzheimer's
Alerts when perimeter doors open to detect wandering.
Predicts when occupants should arrive back home, and alerts if they're not.
Pings your phone if someone is caught roaming around the house at night.
Water leak detection for the bathroom and toilet.
Expandable
Apple Watch and Samsung Galaxy Watch keep track of falls.
Amazon Alexa and Google Home integrate to control with your voice.
Smart Locks secure the home and provide access to the Trusted Circle.
Smart Bulbs and Plugs to control lighting and appliances with your voice.
Connected Thermostats integrate to control comfort and save energy.
Security system enabled with a siren and keypad helps seniors feel in control.